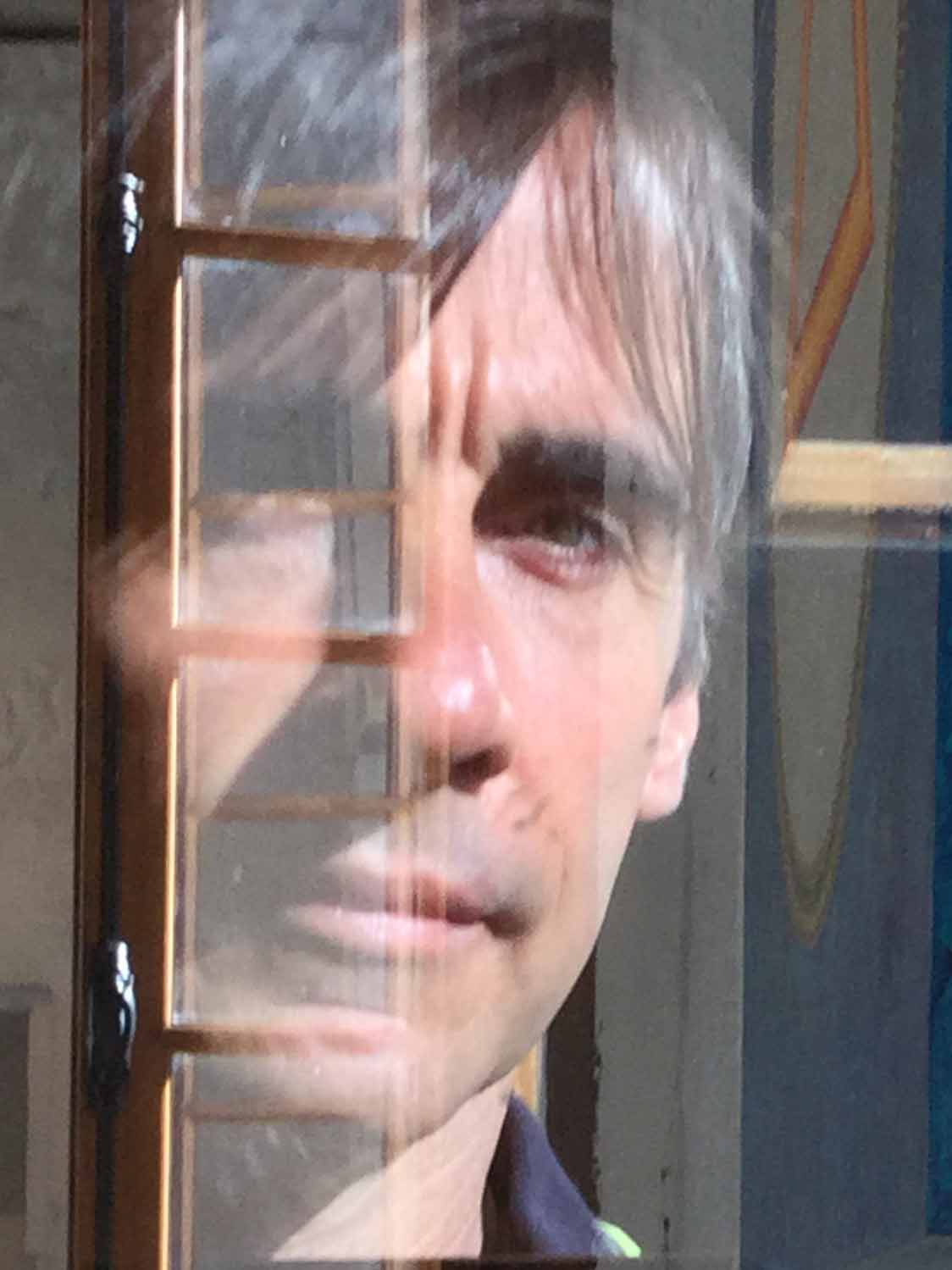 David Paquet was born in Toulouse (France) in 1964.
From his childhood he stood out for his capacity to see the beauty around him and express it firstly on paper and later on canvas, in a unique and personal way.
From his humility he brings the character out of those he portrays, becoming great himself.
Lately his interest focuses on the world of the invisible and the transcendental, making it visible through his art.
David Paquet, great artist, greater person.
A.A. Friend and collector.
A sweet inner transformation to the present that opens to me a wide range of possibilities and freedom.
We have to develop again the ability of amazement that there is in every moment, the magical potential of the instant. That ordinary and daily magic, that tibetans called Drala.
Creative is common to everything and everybody, but only its utilizations develops muses.
I reclaim the healing action of art over beings and their presents.
Superrealism: definition of David Paquet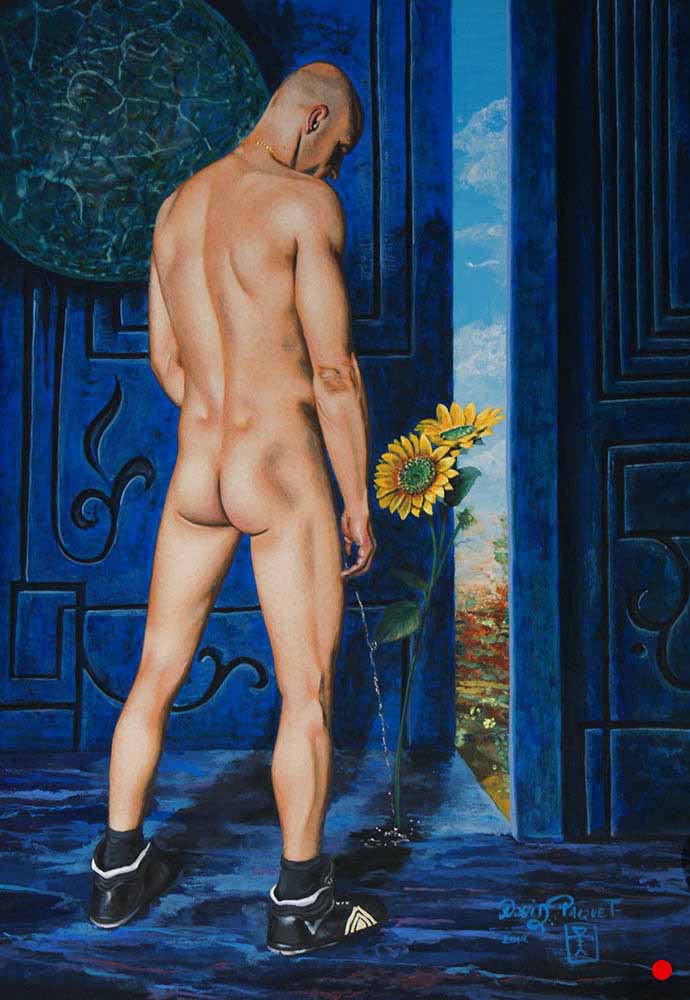 The reality of our lifes always has offered boundless combinations of possibilities, creating sometimes moments SUPPEREALIST.
Now, I propose a second definition to add the RAE.
Artist movement of second half of XXI century that find, look up or recreate anecdotic, eccentrics and weird situations in the reality.
Professional development. Exhibitions Held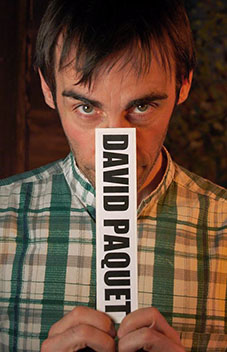 He was born in Toulouse (France) in 1964.
1978. When he was 14 years old, he received the first prize of Gramat city.
1989. David Paquet went to live to Madrid. Shortly Madrid gives him the opportunity to meet a part of "Movida Madrileña" movement, as Pablo Pérez-Minguez, Fabio Macnamara, Carlos Berlanga or Miguel Ángel Arenas, musical producer, with who collaborated in the creation of Legende SL, musical production company between 1192 and 1993.
David Paquet's artistic curiosities include other ways of expresion, as photography, decoration or fashion. Because of that, he collaborates with other artist, standing out which one made for National Prize of Phtograhy with Pablo Pérez-Mínguez.
Between 1989 and 1999, he realized the fashion design for "Shiny Seduction" for Alejandro Sanz and "Living fast" Alejandro Sanz's cover disc. Also for the PPM icon: Marisa Paredes, La Fruta Prohibida, San Expedito, etc…and several cover for El Pais and El mundo Sunday newspapers…
1993. His first individual exhibition was called "Impire", by the hand of Eugenia De Suñer for the prestigious Sen Gallery of Madrid.
1993-1997. David exposed his play in an individual and collective exhibitions several times, in Bellas Artes Palace of Madrid, Gaviria Palace and Corazon Negro.
1993-1996. David Paquet expressed his paints in knitting for Manuel of Gotor designs.
1994. He took part of collective exhibition "Vampiros" of the New Gallery Area of Madrid.
1994. Nowadays. He starts to do portraits. We can standing out: Alejandro Sanz, Pablo Pérez-Mínguez, Antonio Albella, Cesar Saldivar, Enrique del Pozo, José Luis Gil, Andrés Pajares, Gustavo Villapalos, Pedro Serrano, Manuel de Gotor, etc…
1995. "Angelus" collective exhibition for FASE foundation.
1995. Scenery for contemporaneous ballet of Carmen Werner.
1995. David collaborated stylist for Rafa Diez designer in "La Madrida".
1997. David with Pablo Pérez-Mínguez and Alexis Moreau cofounded Talliman Gallery in Madrid, where he took part as curator in all the exhibitions, enhacing: 1997, PPM "La punta del iceberg". 1998. Phtoto España 98. 1999. "El Mundo de Carmen Ynfante". 1999. "Foto Porto 99" (Off Photo Esapaña 99).
1997. Individual Exhibition "Estancias cósmicas" in Tallisman Gallery, became stablished as plastic artist of 90`s, thanks to paint "Minotaruro Cósmico". This paint is considered as a reference of classic myths at the end of XX century according to Jose María Blazquet Martinez, member of Royal Histoy Academy, being this paint the first masculine naked published in Shangay interview.
1998. "Ciento y…postalicas a: Federico García Lorca". Collective Exhibition organized by Correos.
1998. Individual Exhibition: "Animalia". Tallisman Gallery.
1999. Individual Exhibition "Animalia". Sadunga Gallery of Granada.
1999. Headdresses for the fashion designer Lorenzo Caprile.
1999. Co-curator and artist in collective exhibitions "Eurovision 2000". Tallisman Gallery.
2005. David Paquet's web was born. Virtual space where he exhibit his play.
2010. Scenery for the Proyecto: Las 7 Musas de PPM".
2011. New edition of "Cientos y postalitas a: Federico García Lorca". Collective Exhibition organized by Correos.
2011. Collective Exhibition: Lorca y Dalí. El foro de Pozuelo.
2012. David appeared in "Visible" film.
2012. Individual exhibition. "Fondo marino y humano" Amador de los ríos Gallery. Madrid.
2013. Collective exhibition. "Desnudos, homenaje a PPM". El foro de Pozuelo.
2013. Collective exhibition. "El papel de los 80". ABC Museum.
2013. Presentation of Superrealismo in Matadero of Madrid.
2014. Collective exhibition and itinerated. "The bag and the life". Velazquez House of Madrid.
2014. Collective Exhibition. "Colelction Mayte Aguirre". Amador de los Ríos Gallery.
2014. Collective Exhibition. "La Bolsa y la Vida". Casa Velázquez De Madrid.
2014. Individual Exhibition. "David Paquet Universe". Binomio Gallery of Madrid.
2015. Individual Exhibition. "Ilumination path". Matadero de Madrid. AVAM.
2015. Collective Exhibition. "Part Art Fair International". Triber Allemagne.
2015. Individual Exhibition. "Re-meeting". Consul House. Saint Cere.
2016. Collective Exhibition. "Vidas Trans Y 100 Artistas".  Casa de Vacas. Parque Retiro Madrid.
2016. Individual Exhibition. "Universo de Barro".  Matadero de Madrid.
2017. Individual Exhibition. "Pensamientos".  Sala Juan Frances Madrid.
2017. Collective Exhibition. "Impares". Junta de Distrito de Tetuán Madrid.
2017. Chat gathering in Ateno of Madrid. "Creative being: Where is creative born?"
2017. "Art Pop Up Madrid". Direct selling of pictures. Junio. Madrid.
2017.  Collective Exhibition. "ARTE, descúbrelo". Alemí Galería de Arte de León.
2018. Individual Exhibition. "Evolucion". Meliá Madrid Serrano.
If you want to get in contact with me or my agent, fill this form, call +34 605 364 354 or email : david@davidpaquet.com